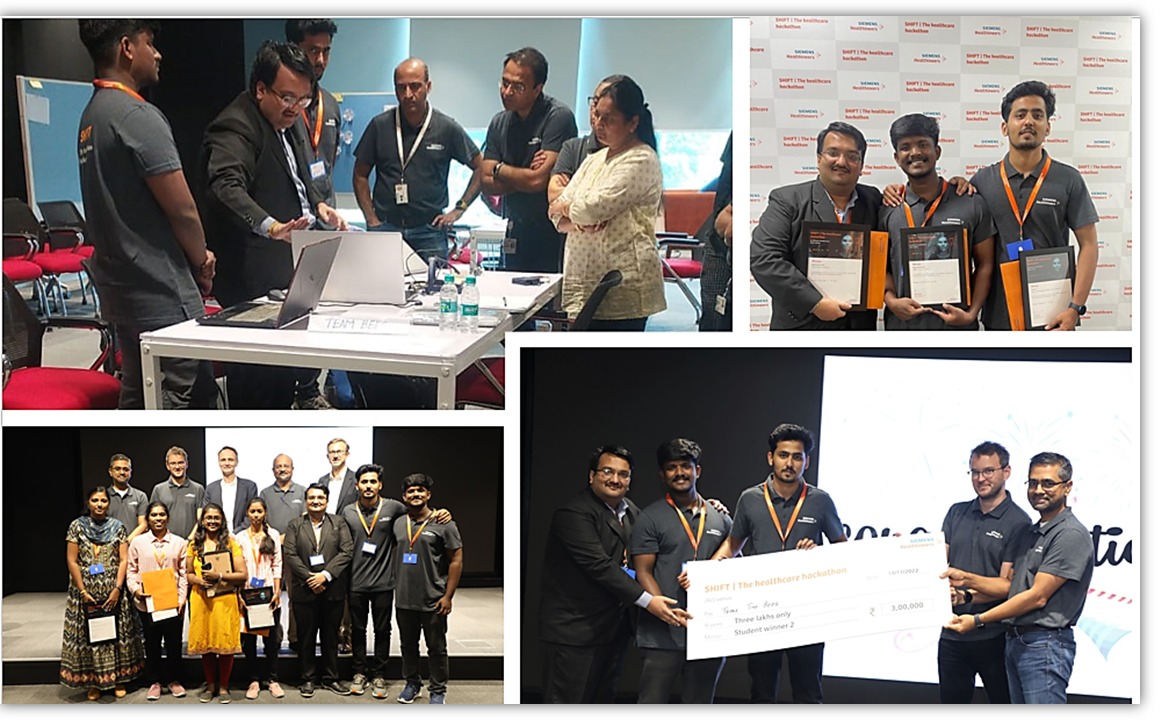 1st Runner-Up award in SHIFT 2022 Hackathon
DESE students from Professor Pandya's lab (BEES Lab) Rathin Joshi, Ajay Krishnan A, and Hari R S have won the 1st Runner-Up award in SHIFT 2022 Hackathon. SHIFT is the Siemens Healthineers Innovation Ecosystem to address the unmet problems in healthcare.
Out of 2051 registered teams, sixteen were invited for 24 h in-person Hackathon. After two rounds of presentations, five teams were shortlisted to present for a grand jury round, and three teams were declared winners.
All three students were awarded prize money of ₹ 3 Lac in addition to receiving offers to join Siemens Healthineers.
Their work is on developing an affordable neurotech platform to screen neonates for deafness.
Hearing Deficit is the most prevalent chronic sensory deficit at birth.
The prevalence of congenital bilateral permanent hearing loss is approximately 1 to 5 per 1000 live births in well-baby nurseries and 2 to 4 per 100 infants in babies admitted to Neonatal Intensive Care Unit.
More than 80% of hearing losses in children are congenital or acquired in the neonatal period.
Consequences of hearing impairment include:
Inability to interpret speech sounds
Often producing a reduced ability to communicate
Delay in language acquisition
Economic and educational disadvantage
Social isolation and mental health stigma
Out-of-hospital birth and lower follow-up rates are still challenging for many developing countries, decreasing coverage of neonatal hearing tests.
Early detection and treatment of hearing impairment in infants benefit language and speech sound acquisition.
Rathin and team developed a neonatal hearing screening (NHS) prototype measuring auditory brainstem and cortical responses. The proposed solution is affordable, portable, and rapid.
This work was in collaboration with Dr. Manjunath Dandinarasaiah, and Dr. Mahesh Jayachandra